Native
Info
This tutorial explains the usage of the VIRNECT Track native C++ sample application for Windows or Linux platforms.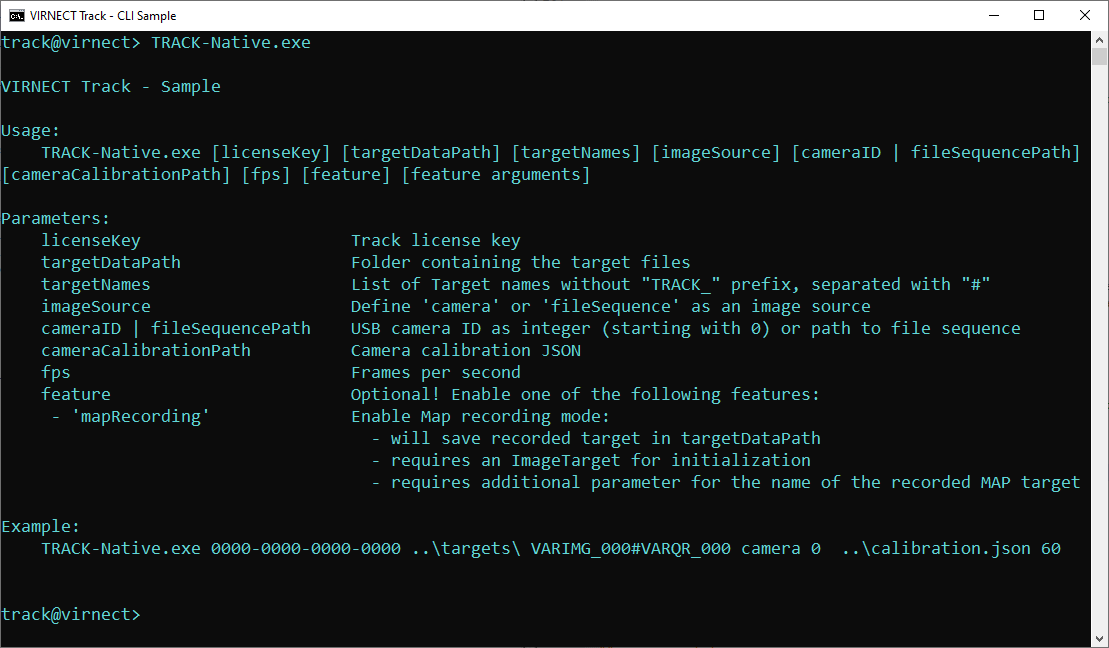 Download or build the application form our Sample Project
Train or download Sample Targets to track

Open a Command Line Interface and start Track-Native.exe with the following arguments:

| Argument | Description |
| --- | --- |
| licenseKey | Your Track license key |
| targetDataPath | Folder containing the target files (If map recording is enabled, it used for saving map target data) |
| targetNames | List of Target names without the .track extension. Multiple Targets can be separated with # (If map recording is enabled, image target should be set) |
| imageSource | Set to camera or fileSequence |
| cameraID or fileSequencePath | USB camera ID as an integer (starting with 0) or path to a folder containing a consecutive image sequence |
| cameraCalibrationPath | Path to camera calibration JSON file representing the intrinsic camera parameters of the used USB camera |
| fps | Frames per second. A value of 30 or 60 is recommended |
| mapRecording | Optional parameter for recording map target |
| maptargetName | Optional parameter for the name of recored MAP target only if mapRecording mode |
Command line example is like below.
./TRACK-Native 0000-0000-0000-0000 ../targets VARIMG_000#VARQR_000 camera 0 ../calibration.json 60 

./TRACK-Native 0000-0000-0000-0000 ../targets VARIMG_000 fileSequence ../imgSequence ../calibration.json 60 mapRecording VARMAP_000

Face your Targets to track them: